"Love saves. Everything else leads to darkness and decay." This was the central message of Archbishop Makarios of Australia during his address to Bishop Evmenios of Kerasounta, whose ordination took place on Saturday, November 20, at the Holy Parish of St Nicholas, in the Sydney suburb of Marrickville.
The Archbishop presided at the Divine Liturgy and conducted the ordination in the presence of Metropolitan Ezekiel of Dervis, Bishop Iakovos of Miletoupolis, Emilianos of Meloa, Elpidios of Kyaneon, Silouan of Sinope, Kyriakos of Sozopolis and Chistodoulos of Magnesia, as reported by vema.com.au.
This joyous event for the Greek Orthodox Church of Australia was honoured by the presence of the Catholic Archbishop of Sydney, Anthony Fisher, whom Archbishop Makarios warmly thanked at the end of the Divine Liturgy and wished him strength and inspiration from the Holy Spirit, so that he continues his fruitful ministry for the common good of Australian society.
Among the congregation were also the High Commissioner for the Republic of Cyprus, Martha Mavromatis, the Consul Generals of Greece in Sydney and Melbourne, Christos Karras and Emmanuel Kakavelakis, and the brother of the Ecumenical Patriarch, Nikolaos Archontonis, and his wife Catherine.
In his address, the about to be ordained Bishop, after thanking Patriarch Bartholomew and the Synodal Hierarchs for his promotion, referred extensively to the persons who, as teachers and guides in his life, instilled in his heart the love for Christ.
He first mentioned his esteemed parents, John and Vasiliki who, as he acknowledged with great emotion, sacrificed everything to offer him and his siblings a warm Christian family. Bishop Evmenios then mentioned his first spiritual father, the late Fr Nikolaos Moutafis, who advised and guided him when he took his first ecclesiastical steps in the Parish of Saints Anargyri in Oakleigh, Melbourne.
In the same Parish, he was counted worthy to meet the then Assistant Bishop and current Metropolitan Ezekiel of Dervis, who inspired him with his life and example and encouraged him to study at St Andrew's Greek Orthodox Theological College and then enter the priesthood.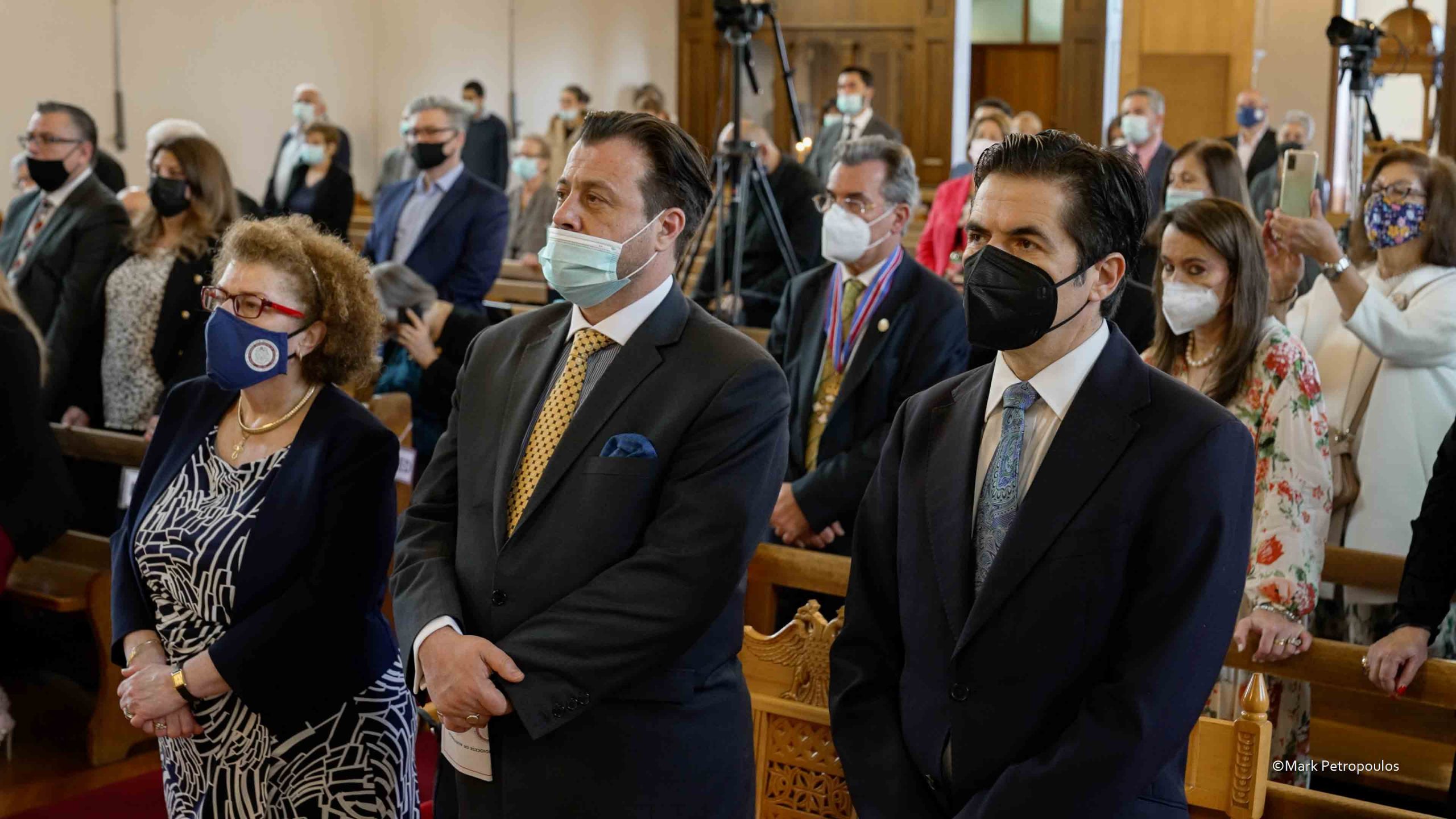 The new Bishop of Kerasounta also conveyed his gratitude to Metropolitan Seraphim of Sevasteia, Bishop Iakovos of Miletoupolis, and all his fellow bishops, while making extensive reference to late Archbishop Stylianos of Australia who, as Archbishop and Dean of St Andrew's Theological College, contributed to his search for a truly orthodox ecclesiastical mindset.
"It made me realise that faith is not found in lengthy and substantiated theological essays or in the acquisition of knowledge of the works of the fathers, but in something deeper that is discovered through the proven ecclesiastical mindset," the Bishop noted and continued, "I quickly discovered this truth through his own daily life and teaching. That is, to become the receiver of the revelatory messages of the Gospel without introducing innovations, without seeking the recognition of others.
For life, I am obliged to Archbishop Stylianos of blessed memory for what he taught me and especially for ordaining me to the second degree of the priesthood."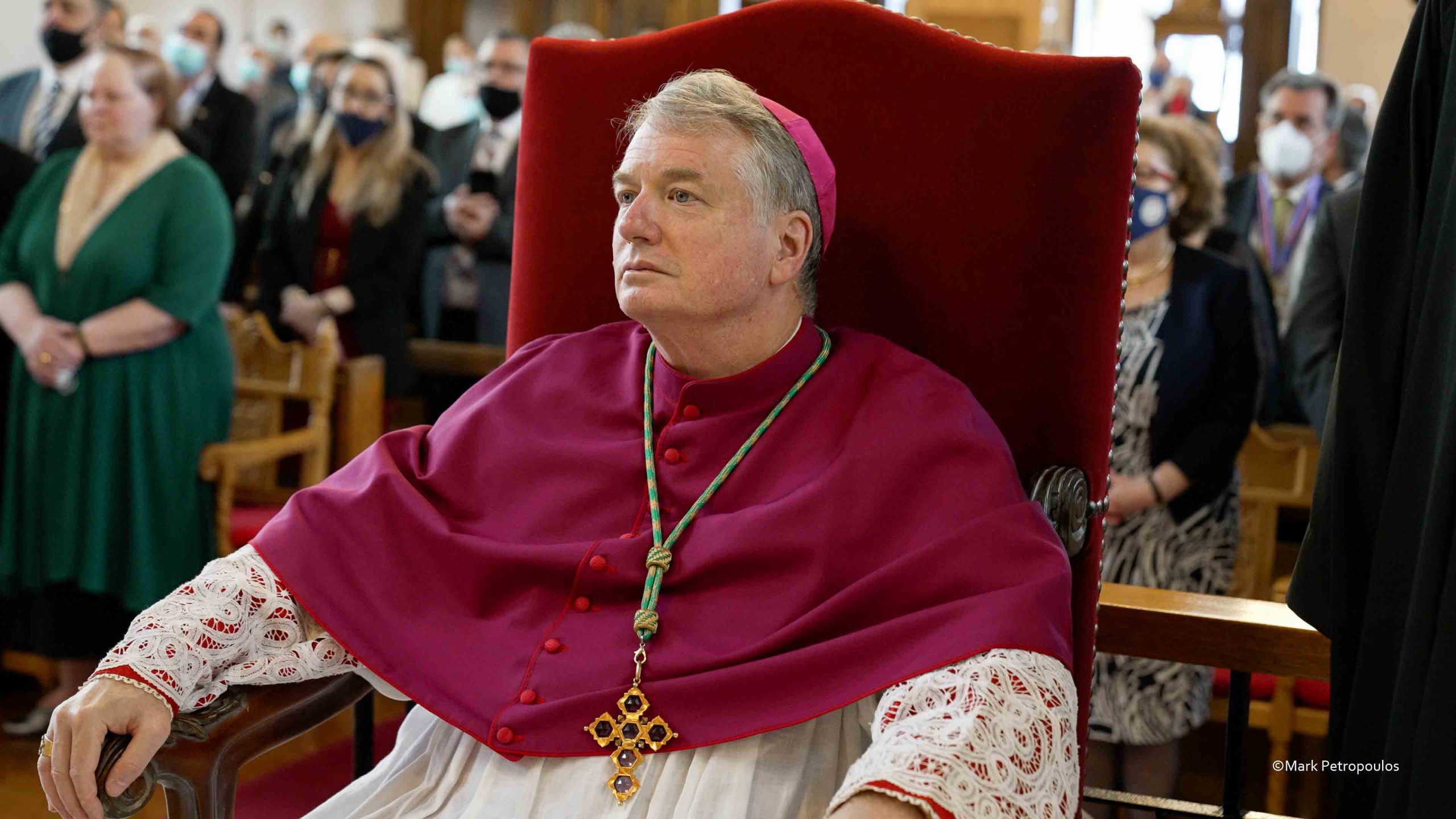 The newly ordained Bishop could not forget to mention the parish where he served for 12 consecutive years, the Church of the Transfiguration of our Lord, in Thomastown, Melbourne.
He conveyed his love for all the parishioners while recalling with emotion that this is where he first met His Eminence Archbishop Makarios of Australia. "It has been indelibly etched in my memory," he said, "that evening of the Transfiguration of our Lord when, after Vespers, we walked together and talked like a father with a son. An image that outlined in my eyes the image of Paul's journey to Damascus.
Dazzling but, at the same time, life-changing. Since then, your presence has been a source of inspiration and guidance for my unworthy self" he said, addressing his Shepherd with filial love and respect, while assuring him that "I will always try to imitate your example and embrace it in my new ministry and mission."
He concluded his address with the promise "to serve with all my strength the vision you have in your heart for our local Church."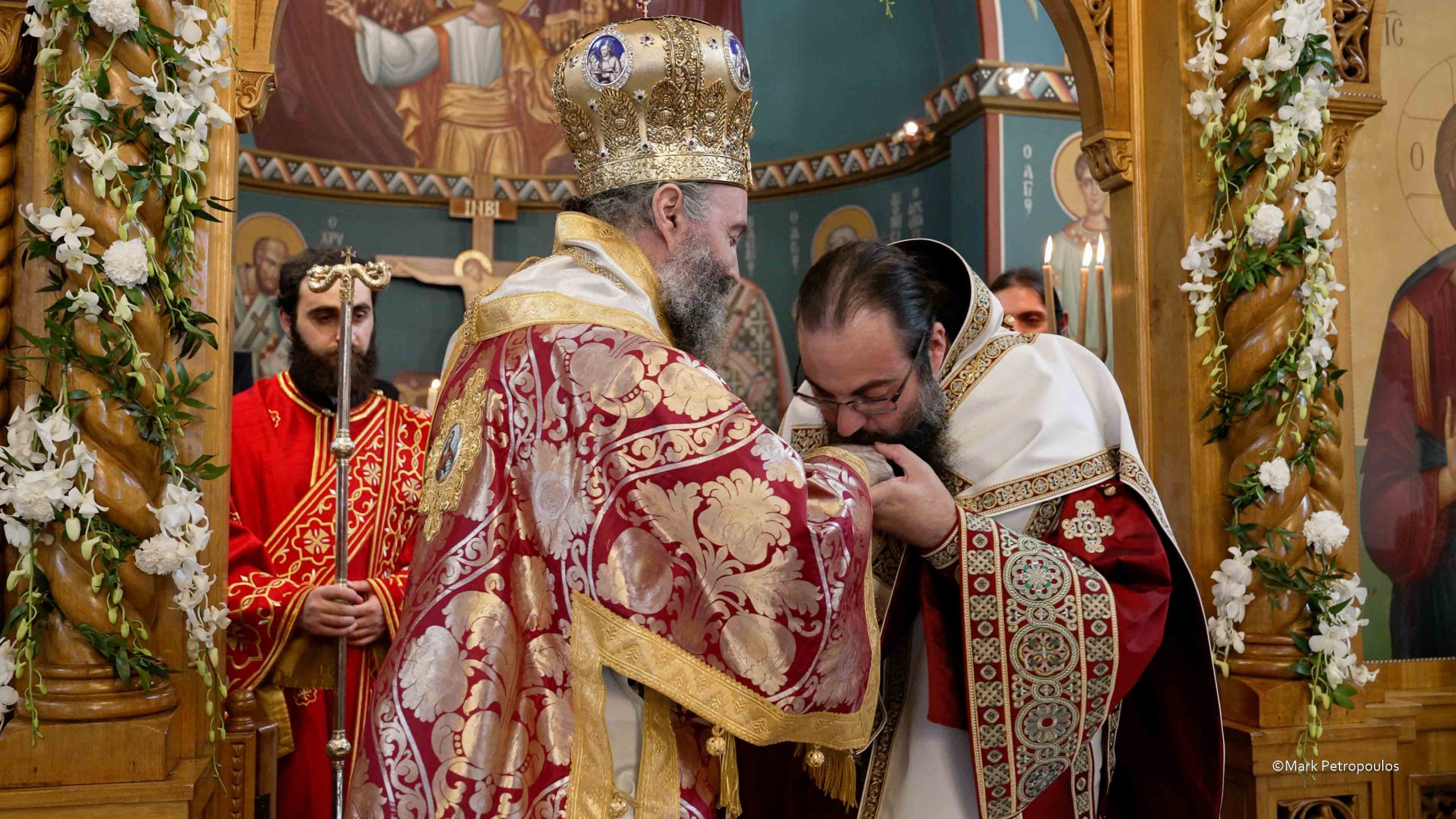 For his part, Archbishop Makarios addressed the about to be ordained bishop with paternal words and spiritual counsel, initially emphasising that the high office he is taking up, in addition to the honour which surrounds it, is accompanied by many responsibilities and obligations towards both God and people.
"The basic and primary responsibility of every bishop is to serve the world of 'us'", he underlined and continued, "more correctly, the bishop is called to serve the work of love; not in a subjective way or by reading a textbook but we serve the work of love with sacrifice and by emptying ourselves."
Pointing out that such was the power of Christ when He came into the world – complete emptying – he urged Bishop Evmenios to start his new spiritual journey with Christ as his companion, "following His own example of love and not human examples. Know that you will not be saved because you have achieved great things," he told him, "you will be saved if you love and if you are loved."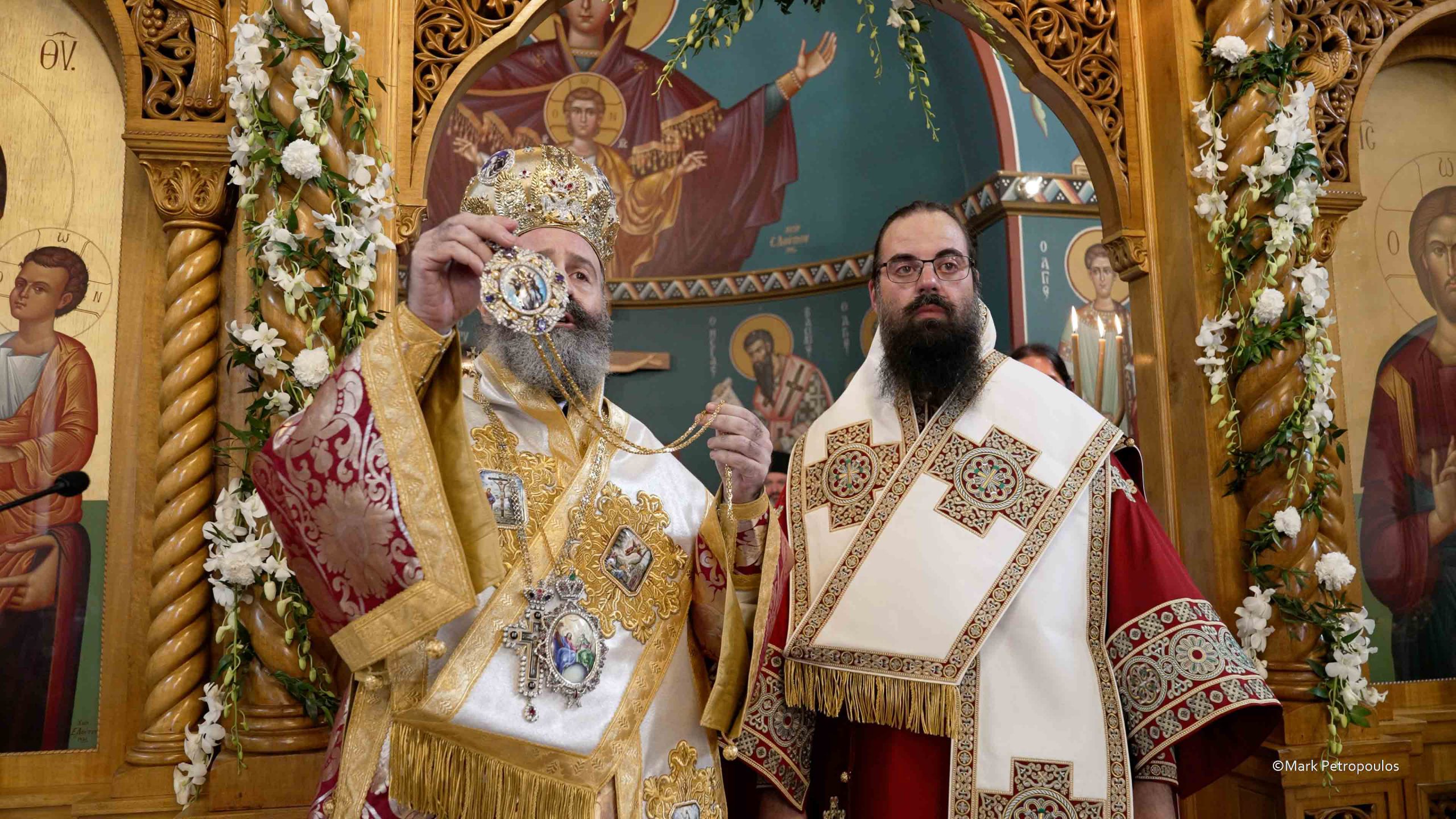 With the wish to become a Bishop, "all light, all love, all affection, all mercy and all humility," he declared to His Grace his confidence that he has the spiritual resources and presuppositions to advance and appear worthy of the expectations of the Church.
Moreover, he praised the hard work and organisational capabilities he has displayed as Archiepiscopal Vicar of Northcote, as well as his theological constitution and devotion to the Mother Church, the Ecumenical Patriarch, and his Archbishop.
"You held the Orthodox Church high during the pandemic," he stated among other things, "you effectively helped in the restoration of St John's College and, most importantly, you have fully met my expectations from the moment I appointed you as CEO of St Basils in Melbourne, at a difficult time, which we are still trying to get through. All the gifts you have abundantly received from God and which you have cultivated and multiplied, foreshadow a glorious course for the glory of Christ and our Holy Church," concluded the Archbishop.